SAMSON CONCERT88 CAMERA COMBO IN PAKISTAN
Wireless Freedom For Your Camera.
Concert 88 Camera Combo is a professional wireless system that brings exceptional audio quality to your film and video productions. Designed to accomodate a wide range of filming applications, the system includes both a handheld transmitter and a lavalier microphone with a beltpack transmitter. Featuring 16 selectable frequencies over a 25 MHz bandwidth, Concert 88 Camera provides reliable, interference-free performance in any location.
Batteries Included
For maximum convenience, the receiver offers 12 hours of battery life from a single removable lithium ion rechargeable battery. Two batteries are included to allow for quick changes so you can limit downtime when the battery level is low. The low profile CR88V receiver can mount directly on to any camera with a cold shoe mount or clip on a shoulder strap. A headphone output with an independent level control offers the ability to monitor the received signal without affecting the receiver's output signal. The system includes 1/8″ and XLR output cables to work with a wide range of cameras.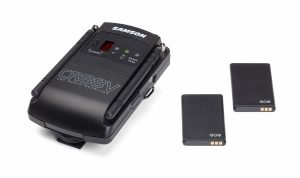 Ultra-Reliable UHF
With a best-in-class 300′ wireless range, the Concert 88 Camera operates within the reliable UHF frequency band. This avoids interference from wireless routers and other handheld devices. The 16 selectable frequency options allow for multi-location shoots, while tone key and an auto mute circuit silents the receiver's output when the transmitter is powered off or out of range.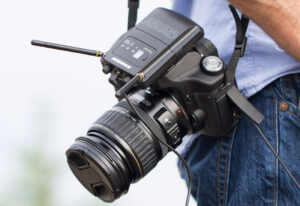 Q8 Handheld & LM10 Lavalier Mic
Audio reaches the CR88V receiver via the CH88 Handheld Transmitter or the CB88 Beltpack Transmitter. The CH88 features the Samson Q8 unidirectional dynamic microphone which is designed to capture clean and intelligible speech. The CB88 includes the Samson LM10 miniature omnidirectional lavalier microphone for hands-free performances. Each transmitter offer eight hours of battery life using two AA batteries (not included), the CH88 and CB88 transmitters feature a variable Gain control, as well as a popless one-touch Mute button.