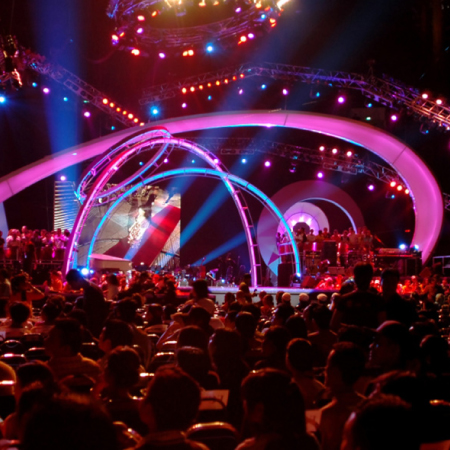 iNSPIRE iP300
Although we refer to it as a "column" loudspeaker, the INSPIRE iP300 delivers the powerful, high-quality sound and optimised dispersion inspired by our award-winning line array products – in a surprisingly lightweight and easy to use, all-in-one form factor. Thanks to an on-board 3-channel digital mixer and multichannel 600-Watt Class-D amplifier driving 2 x 6.5″ high excursion low frequency drivers and 4 x 2″ neodymium drivers, the iP300 is ideally-suited for small to medium-sized performance venues, houses of worship, boardroom presentations, nightclubs, and much more.
Weighing in at a very modest 11.9 kg (26.2 lbs), the iP300 is easy to transport and features industry-leading KLARK TEKNIK Spatial Sound Technology, Reverb, and Class-D multichannel amplifier – plus convenient Bluetooth stereo audio streaming and iPhone/iPad remote control.

Tiny PA – 600 Watts of Perfect Sound
Compact and designed for maximum portability, iP300 setup is fast and easy; just attach the column section(s) to the base and connect your mic or mixer feed and power. Our revolutionary Class-D amplifier technology provides 600 Watts of incredible sonic performance in an easy-to-use, ultra-portable and lightweight package. This amazing technology makes it possible to design and build extremely powerful products that are significantly lighter in weight than their traditional counterparts, while using less energy and protecting the environment. The lightweight Switch Mode Power Supply, coupled with an industry-leading DSP module, provides dynamic equalisation and sophisticated limiting functions to ensure optimal performance and long-term reliability. The powerful iP300 fills the room with the world-famous TURBOSOUND "sound" that has won the coveted Queen's Award – an unprecedented three times.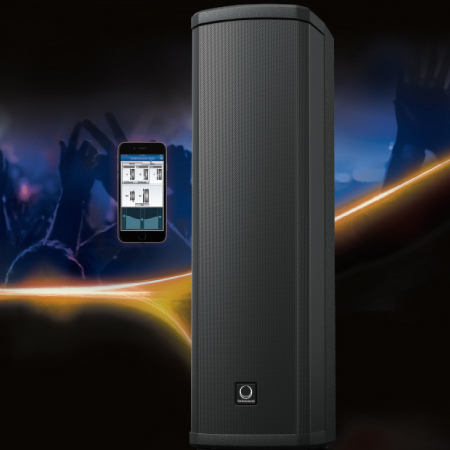 Outstanding Sound Dispersion
Much like the huge line array systems you've experienced at concerts and outdoor festivals (we make those too), the 2″ neodymium midrange / extended high-frequency drivers in the iP300 columns are strategically placed to provide an extremely wide dispersion pattern. Such wide coverage eliminates the need for monitor wedges for the performers and creates a more even, sonically balanced soundscape that covers the entire room. By taking advantage of the arrival-time differential between sound waves reaching the left and right ears, iP300's groundbreaking Spatial Sound Technology (SST) creates a wide, well-defined virtual 3-D acoustic environment, enveloping the listener in a richer and more realistic experience. No matter where you sit, the location of the onstage voices and instruments are perceived in their rightful position within the soundscape, for a performance that is beautifully open and transparent – with unparalleled intelligibility.unprecedented three times